Cheertainer® vs. Pillows—We'll Help you Choose!
We often get asked which of our packaging solutions works "best" for customer applications. In this article, we're specifically discussing Cheertainer® and pillow flexible bag-in-box packaging inserts. As with any packaging solution, it depends on a variety of requirements you may have. That includes variables, such as: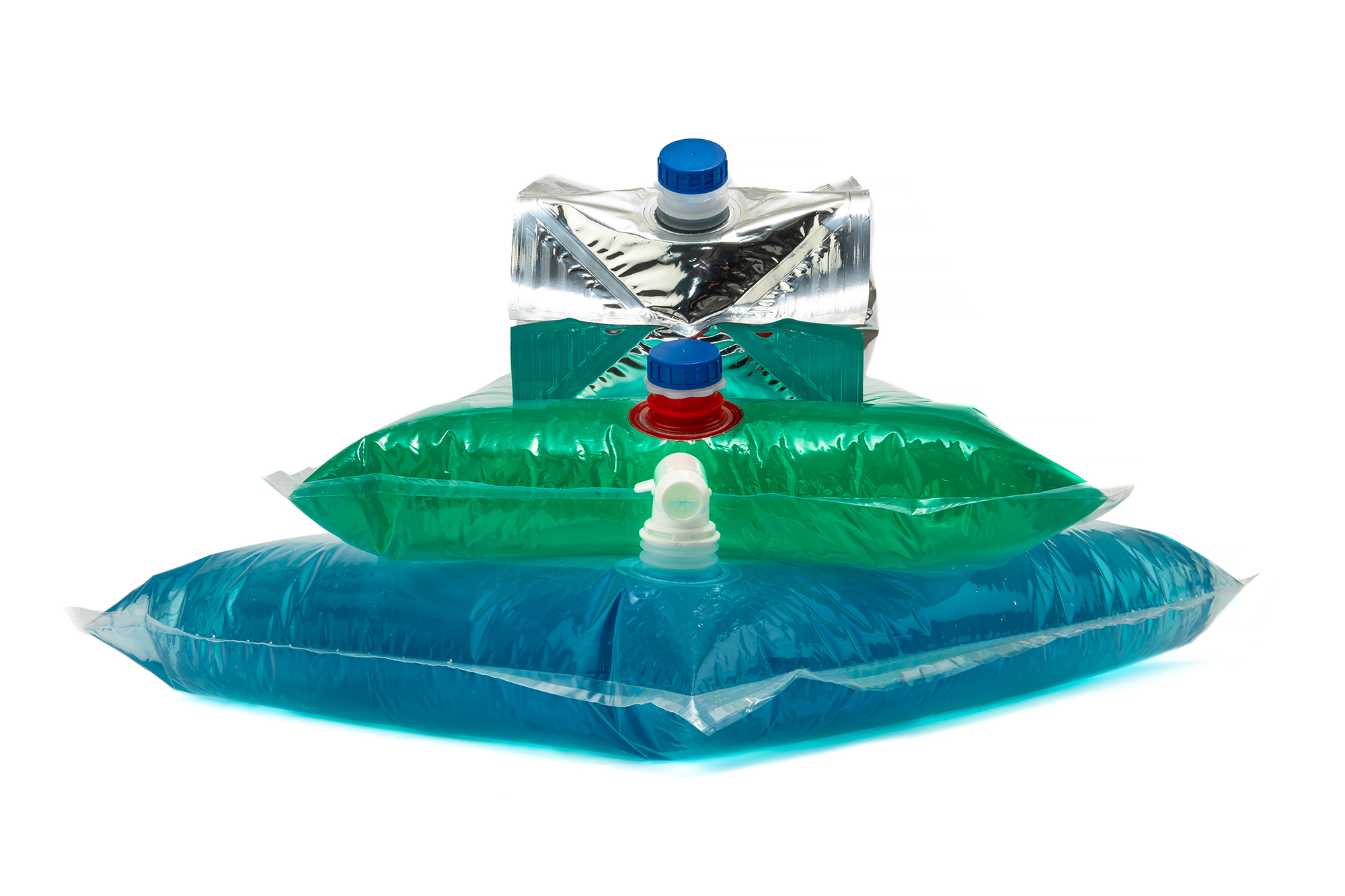 Type of product to be packaged
Transportation—long or short distance
Storage—while in transport and after
Filling/dispensing requirements
To begin with, both Cheertainer and pillow inserts have similarities to each other. Some of the properties, characteristics, and capabilities they share include:
Can be custom sized
Ideal for food and beverage, chemical, detergents, inks, lubricants, paints, and coatings
Material is FDA-compliant
Materials available in standard barrier; high (metalized) barrier for increased oxygen, moisture, and light barrier; and other material, upon request
Excellent quality—rigorous testing throughout production
Superior seam strength
Reduced plastic consumption when compared to rigid cube-shaped containers, plastic pails, and bottles
Minimize shipping and warehouse space requirements
Minimize dead space, allowing more product per pallet
Replace many rigid packages
Fill without air, therefore no foaming or splashing
Dispense without surging or glugging
Suitable for use with manual, semi-automatic, and fully automatic fill lines
If you are looking for flexible packaging inserts that meet the requirements above, you're in the right place. Now, let's help you narrow down your requirements so you can make a choice for which packaging solution best suits your needs.
Stating the Obvious
The most notable difference between the two bags is their shape. The Cheertainer style bag is a form-fit style bag that takes the same shape as the actual box. It is a six-sided object, as opposed to the pillow's two-sided shape—just like a pillow. As noted above, both can be custom-sized, but each has its own set of size/volume parameters. Pillows can range from 1/2 to 25 liters. Cheertainer ranges are from 4 to 25 liters; the dimension can be designed to work with whatever style/size of box you are going to use.
Criteria for Choosing Cheertainer or Pillow
To determine which type of flexible packaging will work for you, we'll explore the factors to consider based on your requirements.
Current Packaging
From our experience, the customers who transfer into the Cheertainer style bags are ones who are already using a cube-shaped container (picture a milk jug in a box). Making the switch to Cheertainer with inserts is a seamless one for these customers.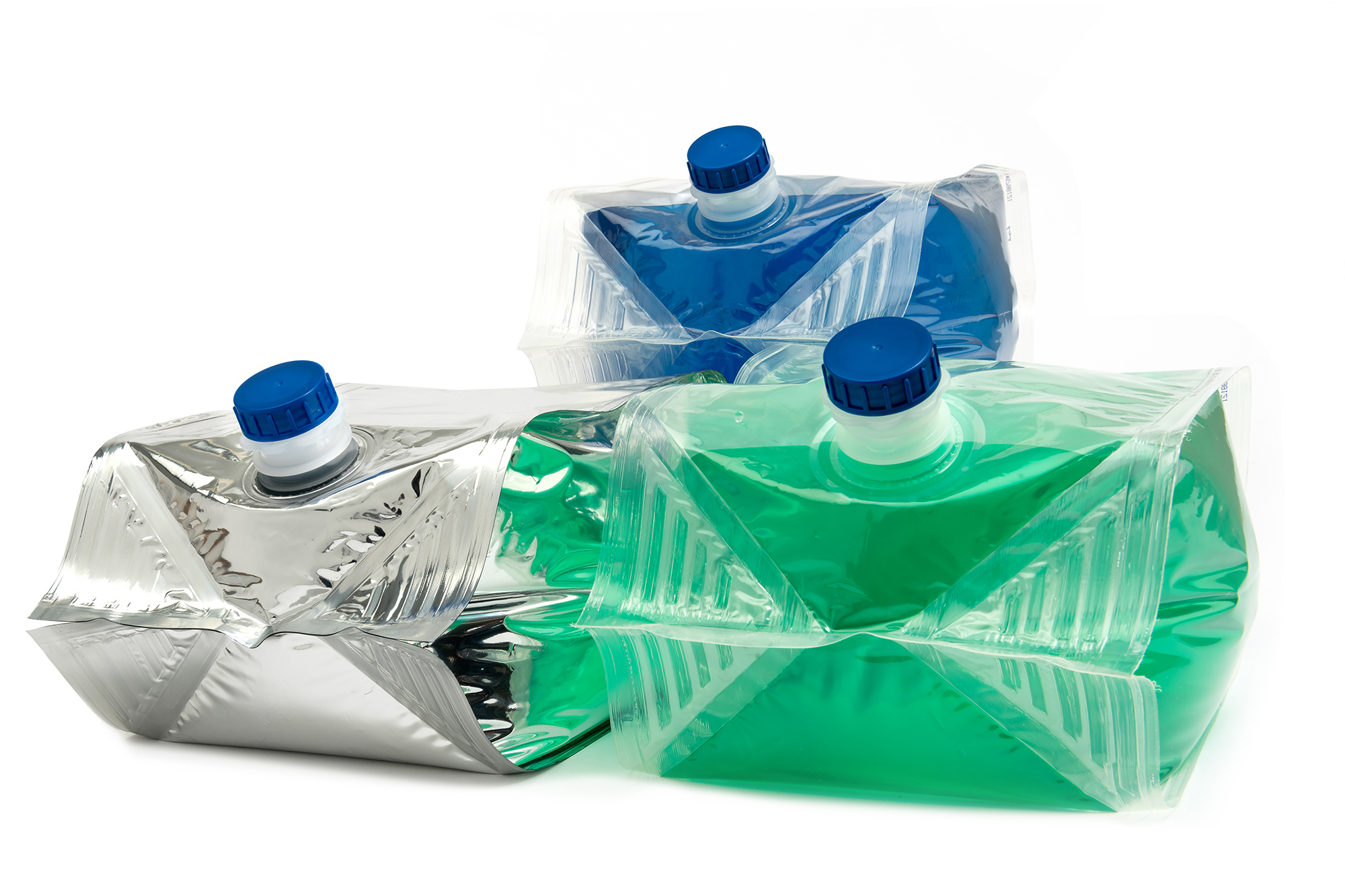 Filling
Cheertainer bags fill completely, as they are shaped to fit the exact inside dimensions of the container are housed in. They fill without air, eliminating foaming and splashing.
Pillow inserts require a fill bridge to complete the filling operation, which can put stress on the fitment. An operator is required during filling and must tend to the fill by pulling up the "ears" of the corners, so product does not get caught in a fold. Volume-wise, the fill may have a very slight percentage less than a form-fit bag, as the corner "ears" may fold and not fill in those areas.
Dispensing
Generally, the dispensing speed is the same with both types of bags, though there tends to be a little less residual in the Cheertainer inserts—up to 2 or 3% more product dispensed—as the product does not get trapped in the folds of the corners.
Cost
Pillow inserts can be less expensive. Equipment costs are generally lower, and it doesn't cost as much to make, so the price point can be more favorable. Of course, orders can be custom sized, so the final costs depend on the custom nature of each order.
Transporting
Shipping distances can be a vital differentiator in determining what you use for packaging. It's important to understand that shipping is stressful on packaging. When shipping product—especially the viscous or liquid product commonly stored in flexible packaging—product moves around, and bag materials move back and forth. All this movement can shift the product around, creating creases in the film—which can cause a flex-crack in the bag and result in a leak. The cube shape design of form-fit bags naturally diminishes the folds and creases in the material, which aids in maintaining the integrity of the inserts during long-distance shipping. Pillows are fine for long distance, but perhaps a better choice for shorter-distance transport.
Certainly, when flexible packaging is stationary, you should never have a leak. Our aim is to manufacture the tightest package we can; we size the bag and box to limit movement of the product and bag inside. This sheds light on why pillows are better suited for shorter distances; because the pillow, by design, has to be bigger and is not the shape of the box, it must be "scrunched" to get it into the box. This is how product can get trapped and cause creasing.
Of course, all of this is subjective to how it is shipped, in general: how far, how tight the packaging is, the size/volume of the packaging. A 5-liter and a 20-liter package will ship differently. The lighter package will have less chance of flex-crack issues because there is less force to cause creasing and cracking in the bag.
Fit to Size
This minimizes trapped product, allowing for better product evacuation—with no surging or glugging. While it is not form fitting, the pillow bag is also very effective with filling and surge- and glug-free dispensing.
Due to its unique design and material strength, the Cheertainer improves efficiencies in the restaurant industry because it can be stored in many capacities; whether it is frozen or needed to be kept dry. The Cheertainer solves many of the common problems associated with competitive products, like fitment positioning, dispense operation, and flex-cracking.
In terms of the impact this can have on shipping, we've discussed this to a degree. This also has other positive influences on transportation, storage, and sustainability profiles—and their respective costs. Flexible packaging, overall, has a much more favorable profile in all of these variables. Our flexible packaging was designed to both save the environment and
your bottom line. Engineered to be lightweight, collapsible, and recyclable, you save on:
Operation and transportation costs
CO2 emissions
Storage
Disposal volume
Some specifics and stats on flexible packaging:
Uses significantly less plastic; on average, costs less than similar-capacity rigid containers, including plastic pails, bottles, and cube-shaped containers
Uses 20% less energy to produce than rigid pails
Minimizes shipping and warehouse space requirements—virtually a flat bag before filled
Allows more product per pallet—rectangular shape minimizes dead space; 48 per pallet compared to 36 rigid pails per pallet
Maximizes shipping capacity: 1 truckload of Cheertainer is equivalent to 10 truckloads of rigid pails
Exceptional-quality, superior seam strength
Traceability
Cheertainer bags are date-coded during production—to the minute—providing a traceable quality trail on the lot, should any issues arise.
Interested in more info about our UN-certified bag-in-box? Get the data sheet!
Time to Switch?
Change can feel daunting, but well worth it when you see it pay for itself in a year and a half. That's right! We helped a customer switch away from their semi-rigid packaging when they were having repeated problems with another vendor's packaging that was not containing their product well. Our experts worked closely with their team to gather all the information we needed to assess and resolve their situation.
As mentioned, their product was hard to hold; it found any defect in the package to get out. We researched and performed extensive testing before designing the perfect package for their product. We discovered that the problems were occurring during shipping—not surprising, given the discussion above. As it turned out, the semi-rigid packaging did not flex at all (or enough) the way it was produced, and created creases and cracks, which ultimately compromised the integrity of the packaging.
Part of our testing involved filling packages at our manufacturing facility and putting them on a vibration simulator for road transport. We also performed real-world filling tests and shipped packages through their distribution network until we got a package that performed well. We designed tight packaging to take stress off of the material. We helped guide them through the process of onboarding the new equipment and filling set-up—as we do with all transitions—with a new box erector, filler, closer, and fully automatized robotic arm palletizer.
Within a year and a half, they saved so much compared to the packaging costs associated with the semi-rigid product that they paid off the new equipment costs in record time, and of course, continue to gain savings in operations.
We also helped another food and beverage company make the switch. After very successfully incorporating Cheertainer packaging into its operation, the customer was able to expand into new markets—launching into retail outlets, liquor stores, and convenience stores. Not only that, it enabled this company to grow its product line, creating more varieties of the original beverage.
It's in the Bag!
Whether Cheertainer or pillow inserts work best for your packaging application, you know you'll get a product that delivers on strength, durability and ease-of-use while providing the quality and reliability demanded throughout the marketplace. It will be easier and more
efficient on the people transporting, moving, and storing the product—as well as the environment.
If you've been thinking about upgrading your current packaging to a solution that can be designed just for your unique application (we have standard sizes, too!)—now is the time. Explore your flexible packaging options to save time and money, increase throughput, ensure high-quality production, and help the environment at the same time.
Changing a long-standing status quo can feel like an overwhelming challenge, so if you are concerned over the feasibility of integrating the new solution with your current set up, give us a call or reach out to us. We'll provide a free consultation and help you make the right choice that best fits your needs.
You might be interested to find out about our UN-certified bag-in-box. CDF's UN-Certified bag-in-box meets all UN requirements and is certified by a third-party lab following the Department of Transportation guidelines. Click here for more information on CDF's UN-certified bag-in-box.