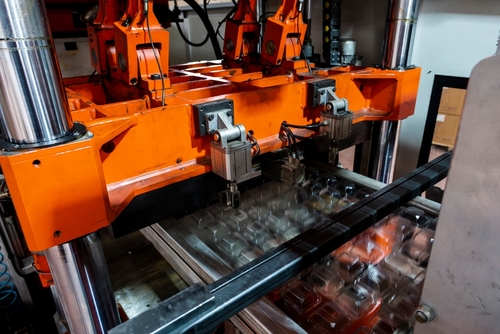 According to data from The Business Research Company, the global thermoforming market is currently valued at about $48.71 billion, having grown at a 7.1 percent compound annual growth rate (CAGR) over just the past year alone. What's more, it's expected to grow to $61.97 billion by 2027, an expected CAGR of 6.2 percent.
Thermoforming is a preferred plastic part manufacturing process for its low cost and speed, and it's one of the most popular processes used to create food packaging. In this post, we'll take a closer look at what thermoforming is, how it works, and vacuum forming – one of the most popular types of thermoforming. Here's a closer look:
What is Thermoforming?
Thermoforming is one of the most popular plastic manufacturing processes in use today. It works by using pressure or force to stretch a thermoplastic material over a mold to create unique shapes, parts, and more. It's one of the most common processes used to manufacture drums, certain types of liners, and other components that are used in packaging. For instance, it's estimated that more than two-thirds of all rigid packaging is created via the thermoforming process.
How it Works
Thermoforming is a multi-step process that starts with plastic film and a mold.
The roll of plastic film is loaded onto a spool and fed through a machine, where it's heated so it can become pliable.
The heated film is then stretched over the mold.
The mold compresses against the film, where it's formed into its desired shape.
Following forming, any excess plastic is trimmed so the product can take its final shape.
The part is then inspected to ensure quality.
Key Advantages of Thermoforming
There is a multitude of advantages associated with administering the thermoforming process over other plastic manufacturing processes. Some of the key benefits include:
Prototyping is fast and easy, so you can create parts or products to test for form, fit, and function faster and move into the manufacturing stage sooner.
The process allows for a high level of customization, no matter how big or small the mold is. This high level of customization is a key advantage of thermoforming compared to other plastic manufacturing methods.
Thermoformed parts also offer several benefits. For instance, they often feature high impact strength, good rigidity, and better stress crack resistance compared to other rigid plastic parts.
It's a sustainable plastic manufacturing process, as any excess plastic not used can be easily recycled for future use. Furthermore, thermoforming can process plastic films that can be recycled following use.
The Different Types of Thermoforming
There are various different sub-sectors of thermoforming, with the three most popular being vacuum forming, pressure forming, and twin-sheet forming. Here's a closer look at each of these different types of thermoforming:
Vacuum Forming
This method consists of a vacuum forming underneath the plastic sheet to essentially suck it against the mold cavity to take shape. This is considered to be the easiest type of thermoforming. One downside is that part thickness can be difficult to control, making it important to ensure that the vacuum pressure is consistent throughout the mold.
Pressure Forming
This method of thermoforming combines vacuum and air pressure and applies it underneath the mold cavity to push the plastic sheet. It's an ideal process to deploy when you need to create more complex shapes or features such as textured surfaces, undercuts, and sharp corners. It's difficult to attain these features using vacuum forming.
Twin-Sheet Forming
As the name implies, twin-sheet forming simultaneously heats and forms two plastic sheets using two molds. It's carried out by pressing the mold tools together in order to connect the two halves of the final part. It's a common thermoforming process used to create circular parts (i.e., ducts and piping).
Applications of Thermoforming in Various Industries, Such as Packaging, Automotive, Medical, and More
While thermoforming is commonly deployed in the packaging industry, it's a process that's also deployed in a variety of other industries – from creating automotive to consumer goods to medical and pharmaceutical products.
As we noted above, thermoforming is used to create about two-thirds of all rigid packaging. Some common thermoformed packaging applications include:
Clam shell packages
Trays and tray inserts
Domes and platters
Blister packaging
Tubes
Sterile packaging
Other thermoformed products that span other industries include:
Dashboard accessories
Door panels and interior paneling
Automotive body panels
Bumpers
Window shades
Ducts
Electronic enclosures
Tool cases
Machinery covers
Light housings
Medical imaging enclosures
Hospital bed parts and components
Exercise and fitness components
Protective casing
Thermoforming vs Vacuum Forming
As we covered above, vacuum forming is a type of thermoforming process, arguably the most popular sub-sector of thermoforming. Vacuum forming, however, tends to take the basic thermoforming process one step further by applying vacuum pressure to the mold to assist in making the product. Thermoforming creates parts without this added pressure.
So when should vacuum forming be used over standard thermoforming? Vacuum forming is ideal for creating contoured packaging or packaging that only needs to be formed on a single side. It's also a very commonly used process when creating food packaging, as the process is compatible with food-grade plastics. Known as the most simple type of thermoforming, vacuum forming is often used to create parts such as:
Plastic packaging
Automotive parts
Refrigerator liners
Shower trays
And more.
Contact CDF
For more information on thermoforming and how it's used to create some of the most common everyday pieces of food packaging, contact CDF today. One product that we thermoform is leak-proof inserts and cylindrical, tapered, and rectangular products. Contact us today to learn more about thermoforming and why it's such an ideal process for so many parts.