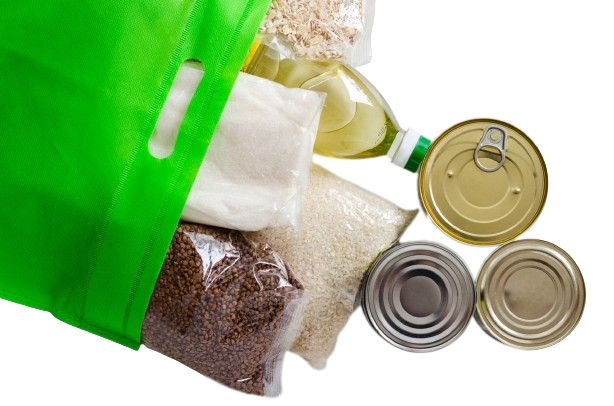 From MREs (meals ready-to-eat) to canned chicken and tuna. From camping food to instant noodles. Soups and rice to sauces.
Many of the aforementioned products have one major thing in common: They're examples of retort processed foods living in retort packaging formats – and such products typically have a shelf life of anywhere from one year to 26 months in the right ambient conditions. It's a shelf life that far exceeds that of conventional packaged food.
Retort processing is a method to heat, pressurize and extend the shelf life of food – and it's become an increasingly popular method worldwide. A quick walk through your neighborhood grocery store and you're likely to come across a variety of cans, flexible pouches, and other packaging formats that are examples of retort packaging.
In this post, we'll take a closer look at retort processing, including a discussion of the three basic retort processes, the importance of overpressure, the role of flexible packaging, and more. Here's a closer look at what you need to know about retort processing:
What Is Retort Processing?
Just what is retort processing? Retort processing consists of sterilizing, pasteurizing, or cooking a product (and its packaging) so it's both safe and of high quality. Just think of it as thermal processing to eradicate any microorganisms and extend a product's shelf life.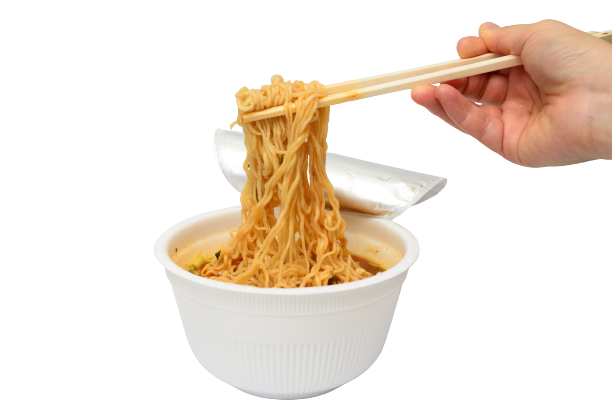 The retort process essentially works to "cook" food after it has been packaged. A typical retort process consists of packaging the food into a pouch (or another format), sealing it, and then heating it to extremely high temperatures to achieve this. We'll get into the three main types of retort processing delivery methods a little bit later on in this post.
Retort Food Processing Operating Principals
It should go without saying that the shelf life of food is directly related to its processing as well as its packaging. In a typical retort processing application, the package is heated up to 250 degrees Fahrenheit for several minutes under high pressure inside equipment designated for such purposes. This heat destroys any microorganisms, bacteria, or anything else that may be present in the food – and because the package is already sealed when it undergoes processing, it is unable to be contaminated any further. Retort processing also prevents the food from spoiling.
One big advantage to retort processing is that the food itself and the package are able to be thermally processed together. However, the package also has to be able to withstand high temperatures and high pressure in the retort chamber. That's one of the big benefits of retort pouches. Typically crafted from multiple layers of film and heat-resistant plastic, they're designed to be tough, durable, and a more sustainable option than rigid packaging formats. Retort pouches also hit all standards and guidelines set by the U.S. Food and Drug Administration.
Why is Overpressure Important in Retort Packaging?
If overpressure isn't introduced to the retort package during cooling, pressure can drop. This can lead to a vacuum in the retort, which can be very problematic. If a vacuum is created, the pressure between the outside environment and what's present in the chamber can become too significant and the end result is often a damaged product or package. It's a big part of the reason why overpressure must be very carefully controlled during the initial cooling stage. Failure to do so could cause product buckling or crushing.
Retort Sterilization Process Delivery Methods
The three basic retort processes to achieve sterilization are steam, falling water, and complete water immersion. Read on for a more detailed look at each method and their sub-sections: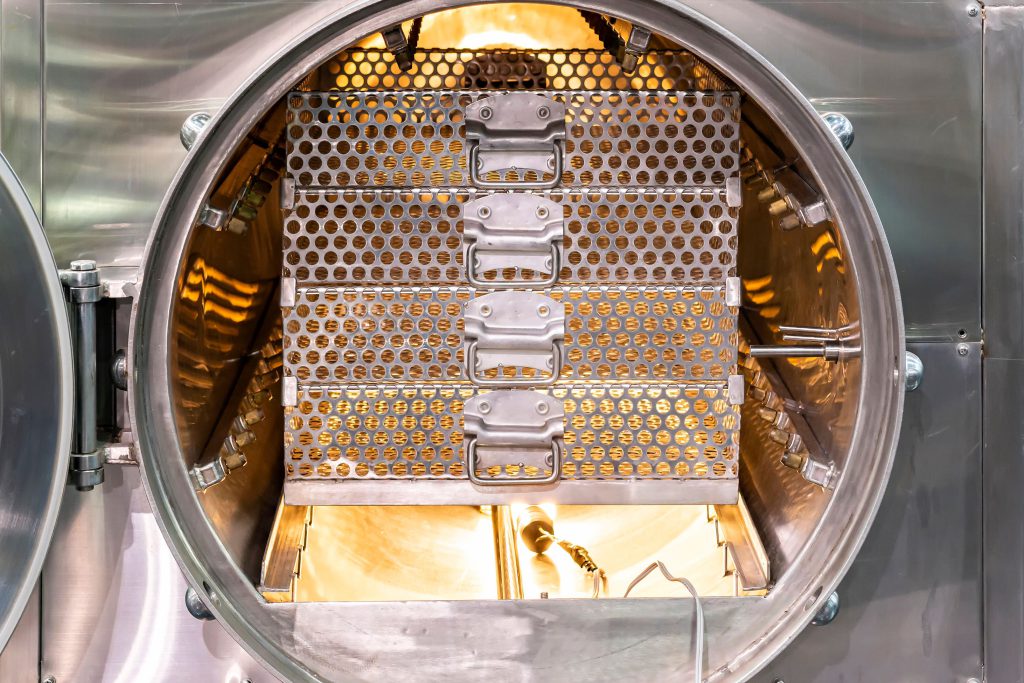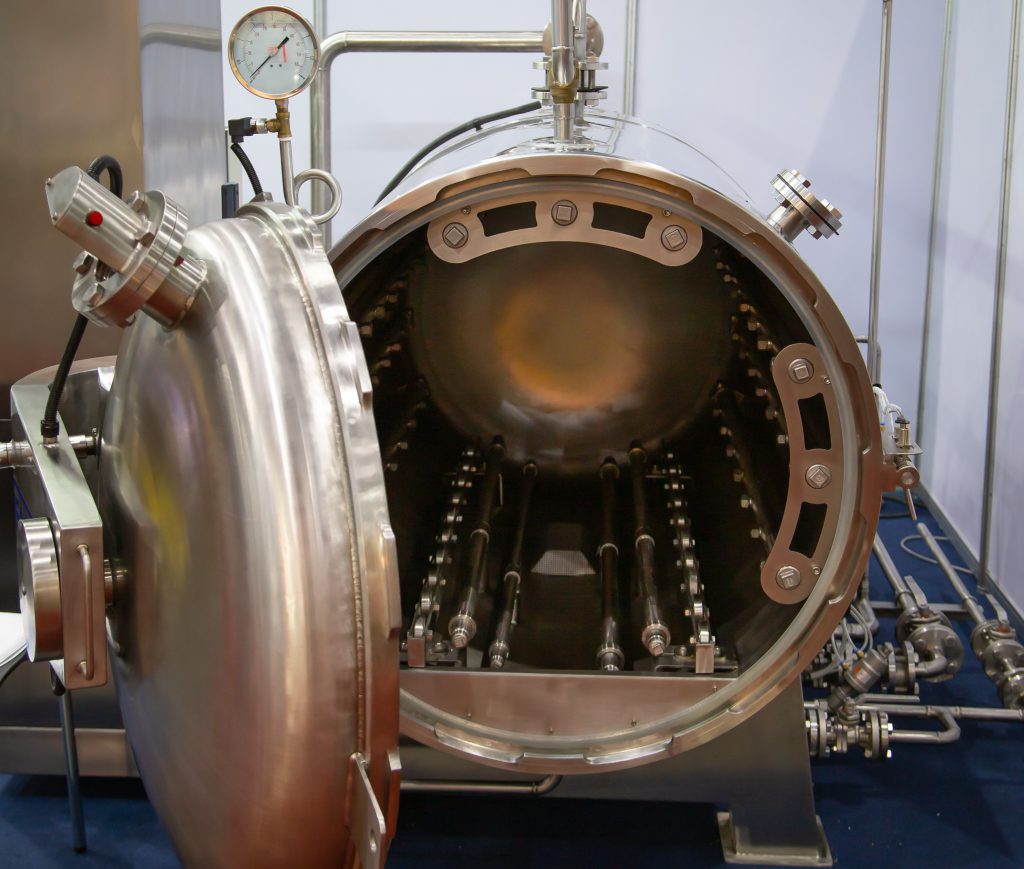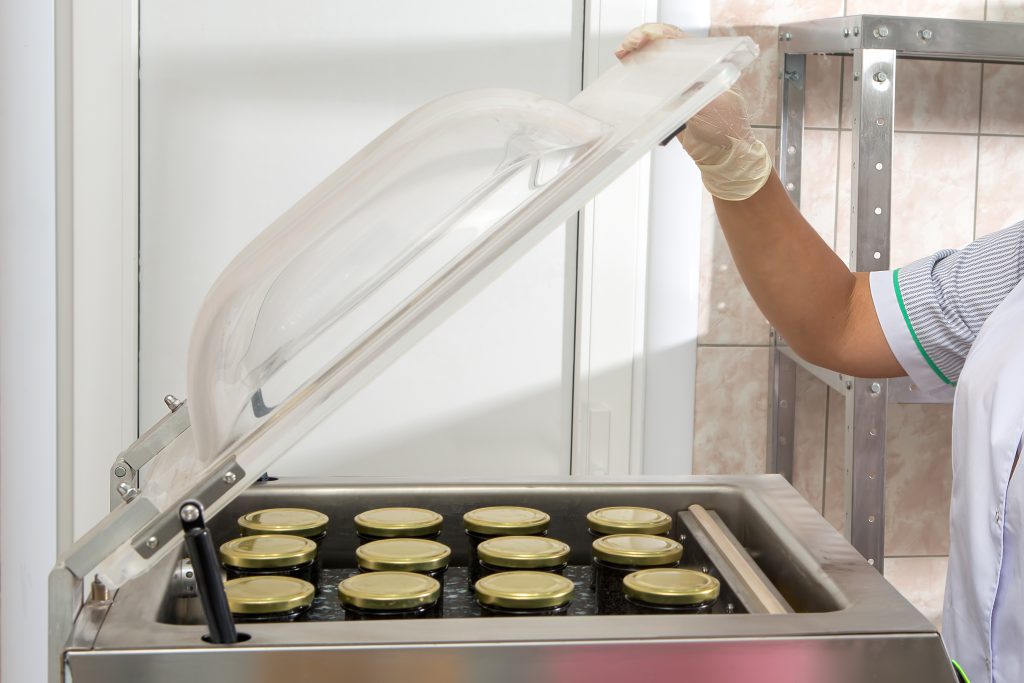 Steam
A package is placed into a chamber, where pressurized steam is delivered. After about 10 minutes, a valve is closed and steam is injected into the chamber. This creates overpressure from the temperature increase. Steaming tends to be expensive and pressure fluctuations make this process a difficult one for processing pouches.
However, there is a steam/air combination process that tends to be much more efficient and effective, especially working on pouches. This process offers short processing times and a two-step cooling process.
Falling Water
Ideal for batch retorting, this is a process that combines steam and water in a spray. It's an ideal process for rigid packaging formats, as it can facilitate rapid heating. However, while this falling water process can facilitate rapid heating, the same cannot be said about cooling. The atomizing nozzles used tend to restrict water during cooling, which can lead to overall longer processing times.
A subset of the falling water process is rain or cascading water. This system uses high-temperature water to achieve product sterilization. It's a common process used in processing glass containers.
Complete Water Immersion
One of the most popular retort processes consists of hot water flooding a retort chamber, which then is reheated to facilitate sterilization, this is known as complete water immersion. After sterilization is achieved, some water is recirculated and then used for cooling the product. Full water immersion is an ideal processing method for pouches and trays, so long as the flotation of the packaging formats can be properly controlled.
A similar retort process is half water immersion. It's similar to the aforementioned complete water immersion process, except the chamber is only filled halfway with water.
Contact Us Today
For more information on retort processing and how flexible packaging formats are becoming the preferred packaging type for retort processing, contact CDF today.