How Gen Z and Sustainability Goals Relate to Industrial Packaging
What do Amazon, Ben & Jerry's, General Mills, and the U.S. Dairy Export Council (USDEC) all have in common? According to this DairyReporter.com article, they are concerned about the needs of consumers around the world. As well, they are—and we all should be—even the B2B sectors of our companies. We're keenly aware that while we are businesses that sell to businesses, at the core, we are people working with people. We all have home lives and personal issues that matter to us as consumers—be they the bottom-line expenses of balancing a home budget or real-world concerns about how we can be more conscious consumers. What is telling is that emotions play as integral a role with purchases in our personal and business lives alike.
Emotional Connection in B2B Buying
We're not talking about emotionally based buying, which often results in an impulse purchase. While that could happen in a B2B customer journey, impulse purchasing more often happens in a personal buying situation. Emotions, however, do very much influence the longer buying cycles in the B2B world. In fact, according this LinkedIn business article, longer periods of consideration allow deeper emotions more opportunity to work their influence.
Research suggests that "The more we weigh up our options for a decision with major consequences, the more we need our emotions, our instincts and our memories to help us to make a choice." The article states that "B2B purchasers are almost 50% more likely to buy a product when they see personal value for them in the form of confidence in their choice—or a positive impact on their career." In business, this is the fuel that motivates people when connected to "our aspiration to secure the future we want and the confidence that we're capable of doing so." Sounds big, and futuristic, and heady … but a necessary mindset to prepare for the future. As it is with Gen Z buying habits and perceptions … and their concerns for a better future.
Impact on the Dairy Industry
We talked about multi-generational purchasing power and the impact on industrial packaging in this recent blog. When we saw that the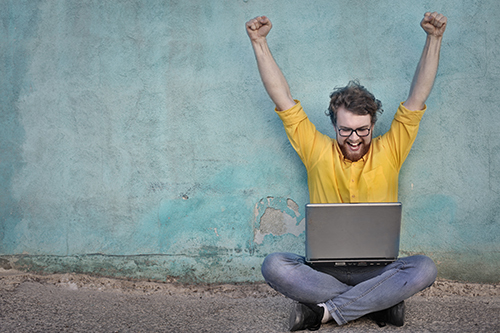 USDEC and other big players in the dairy and food industry were taking note, we weren't surprised. As they dive deeper into what their consumers—who will have "huge buying powers in the years to come"—care about, from a convenience, economical, and socially responsible perspective, they are intent on building trust and brand loyalty and paving the way for "disruptive dairy innovation."
Some of the challenges and changing needs the dairy industry is facing to appeal to Gen Zers are:
Convenience: they want products when they want them—and they need to be easily accessible
Healthy: looking for nutritious options
Innovations: they "like new things"
Mindset alignment: Gen Zers want items that intrigue "their mindset and kind of backs up the way they think"
eCommerce: niche products gain fast audiences—need to have a presence in this market
Dairy alternatives: with all the options available, there is still a "tremendous demand" for dairy proteins; how to rebuild loyalty for dairy products
Making the World a Better Place
The DairyReporter tells us that among the mindset Gen Zers have (they are skeptics, career-focused, and protective of their social media), they are "concerned about equality and driven to make the world a better place." Younger populations are also much more inclined to shop online. As we wrote about in our recent article, here is where those two positions intersect:
"This plays out in a significant way when we consider that the shoppers who depend most on technology to drive their purchases—Gen Zers and Millennials—are, indeed, researching companies to see if they have a favorable sustainability profile. They are well aware of—or can find out very quickly—the corporate structure of the end-use product to find out which corporate umbrella it lives under. Online purchases, and even brick-and-mortar decisions, can be impulsive and emotionally tied to their personal beliefs about your corporate responsibility quotient."
Is Your Industrial Packaging Making the Cut?
Which brings this home to how your business is poised to answer to the growing concern about sustainability that people—consumers and corporate customers—have, regardless of their demographic niche.
With mindful packaging practices at our core, CDF has created innovative product lines that positively address sustainability concerns while providing aseptic protection, high-quality material, and customizable sizes. Our intermediate bulk containers (IBCs) are the optimal choice for shipping, storage, and dispensing dairy products.
Flexible Bag-in-Box Containers use significantly less plastic than rigid containers—in fact, 80% less plastic. This is an important distinction for companies building their environmental reputations and looking for more sustainable packaging solutions. Less plastic translates to a more favorable disposal and recycling profile, and savings on time, money, and efficiency with transportation and storage. Energy consumption at all stages of manufacture, use, and disposal of bag-in-box flexible packaging are less as compared to rigid containers, which means decreased carbon emissions during packaging manufacture, product filling, transportation, recycling, etc.
Here are a few of bag-in-box sustainability statistics:
Uses 20% less energy to produce than rigid pails.
CO2 emissions during transportation are decreased by 50% compared to competitive rigid containers.
Rectangular shape minimizes dead space by a 3:1 ratio, allowing more product per pallet.
Maximizes shipping capacity: 1 full truckload of bag-in-box is equivalent to 10 truckloads of rigid pails.
According to the Flexible Packaging Association, flexible materials produce 75% fewer carbon emissions than the next closest packaging option.
Ask us about our UN-Certified bag-in-box option and read in-depth about its impressive sustainability profile here.
Form-Fit IBC Liners work seamlessly—literally—during high-speed or difficult fills, and keep out oxygen for aseptic-requirement products. They are manufactured to form fit the internal shape of your intermediate bulk container. Form-fit IBC liners provide high performance in critical applications, such as top-fill applications using a bridge or automated filler; containers with no access doors for placing a liner at the bottom; or high-speed fills and viscous products that would get caught in the folds of pillow-shaped liners.
IBC Pillow-Shaped Liners are pillow-shaped flexible containers that are typically constructed of two or three plies of linear low-density polyethylene and a barrier film when used for oxygen-barrier applications.
Air-Assist liners are specially designed for convenient dispense and improved evacuation of high viscosity products, providing a smooth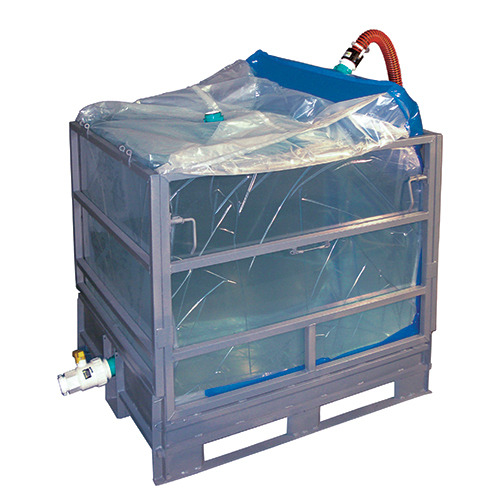 flow of product. The Air-Assist liner features a Form-fit liner with an attached air bladder. As the air bladder is inflated, it pushes against the Form-fit liner, forcing the viscous product out of the bottom dispense fitment, resulting in less residual product left in the liner. In addition, the Air-Assist liner is hands-free; after attaching the air supply system, the operator can walk away during dispense. Liners work well with a wide variety of dispensing mechanisms, such as air-assist liners, that deliver better product yield during dispensing, and cost up to 25% less in freight by allowing more volume usage. More products per truckload equal more efficient transportation and less C02 emissions. Click here to see our video on Air-Assist liners.
IBC Liners are a flexible solution that makes sense!
Increased efficiency
Decreased costs
Easy set-up/switch over
Built-in quality control
Favorable sustainability profile
BPA-Free Valves
If you have European divisions, you are aware that France has a ban on BPA, which is commonly found in plastic valves. We've written about it in more detail here. In a nutshell, CDF has the first—and only—BPA-free plastic valve on the market, which can also withstand rigorous cleaning. Even though this has been driven by European legislation, it is a matter of time that the zero-tolerance ban will be adopted in other European countries; and with some European-based companies doing business in the States, quite probably, U.S. adoption is also on the horizon.
The Right Fit and a Healthy Perspective
Selecting the right container option for your company will translate to cost savings during your manufacturing and shipping process, less effort wasted on leakage or contamination problems, better ease-of-use for your end customers, while maintaining a favorable sustainability profile for all stakeholders in the supply chain.
How We Can Help
Years as an innovator of new designs and custom packaging solutions allows us to meet the special needs of customers not met by traditional products, such as cans, bottles, and jars. We work closely with customers to develop mindful packaging solutions that satisfy the most demanding and unique applications. For more information about our IMS-certified flexible packaging, download this bag-in-box FAQ sheet that will answer some of the top questions customers initially have, or contact us directly to find the right solution for your safe food packaging requirements now.