In packaging today, it's vital to know what will be needed tomorrow. Or into the next decade, even. As much as commerce is driven by customer demands, manufacturers also set trends and guide innovations. Smithers Pira's recent market analysis and exclusive data set traces "four key trends that will be drivers for the industrial packaging market through to the end of the decade."
Let's set the stage for the outlook for the global market for industrial packaging in general: as of 2013, it was estimated at $48.6 billion and is forecast to reach $61 billion by 2020. That translates into an annual growth rate of 3.4%, according to Smithers Pira.
The four key industries that comprise the industrial packaging ecosystem are:
Chemicals and pharmaceuticals
Lubricants
Bulk food and beverages
Building and construction
According to the analysis:
"Today, the chemicals and pharmaceuticals sector is the most significant end-use market for industrial packaging, accounting for more than 30% of total sales. The chemicals market represents more than three quarters of the steel drum and rigid intermediate bulk containers (IBC) market, and accounts for more than half of all plastic drums in use.
Drums and IBCs together accounted for just under a third of the market in 2013, but are forecast to represent 36% of total usage by 2020, with the strongest growth expected in IBCs."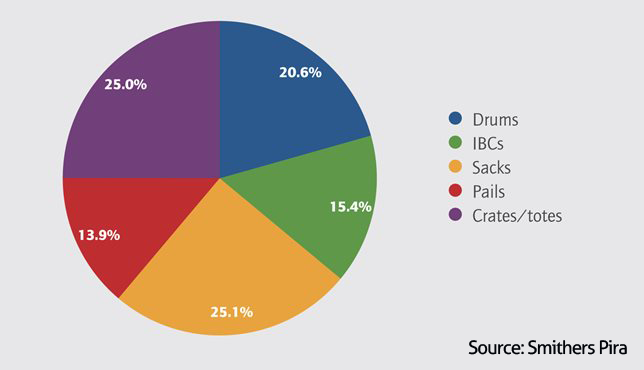 The Four Top Trends in Industrial Packaging
Industrial packaging manufacturers—along with end users—are focused on four trends that will shape the development and function of packaging into the future. They are:
Recycling
Downgauging
Optimizing Pack Shape
Safety
Let's take a closer look at these "trends." Though at CDF, we've been well aware of them, and have innovated in anticipation of the needs behind them for some time.
Recycling
The reduce, re-use, recycle approach has been a common mantra since—can you believe it—the 70s! It has permeated the mindsets of consumers and corporations and is a mainstay sustainability initiative in many businesses. One sector that practices these principles, and has honed an entire closed-loop ecosystem within industrial packaging, is the steel drum industry.
Smithers Pira notes that recycling steel has been proven in numerous studies to be "less harmful to the environment than the extraction of virgin ore. The recycling process significantly reduces air and water pollution, as well as saving production phase energy and water, and lowering mining waste."
According to the Industrial Steel Drum Institute (ISDI), steel drums provide safe transport for approximately 50 million tons of material worldwide a year. ISDI also states, "Virtually all steel containers can be reconditioned or recycled for reuse, which ranks steel drums high in sustainability and leads to significant back-end cost savings. And because U.S. Department of Transportation incident rates indicate that steel drums are the safest containers, insurance rates for steel drum shipments are the lowest."
All this bodes well for the environment—and it's a fantastic perk to know it also helps with operational costs.
CDF's Contribution
Steel drum & pail containers are still the go-to packaging for transporting and storing hazardous or dangerous goods. One massive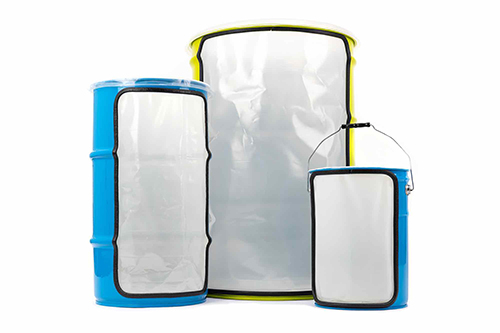 change in the market—and a trend we are proud to lead on—are liners for the drum & pail packaging. Liners offer an economical and sustainable way to get the most use out of a steel drum—or any drum. Using a liner helps keep the drum clean and ready for re-use or recycling. Steel drums, with or without liners, are regularly "reconditioned," which means they are cleaned by a third-party reconditioner and sold to be re-used. Adhesives and greases can be difficult to clean, so reconditioning isn't always a viable option to ensure an extended life cycle of a drum. When using a liner inside drums, it makes the drum more palatable for a reconditioner to clean and get it back into a close-looped system.
Downgauging
Another important focus in packaging is material reduction, which also aids in functionality and ease of use. This means the design not only uses fewer materials, but also decreases package "bulk" in terms of overall size and weight—offering a host of benefits to the entire supply chain, as well as the environment.
CDF's Contribution
Smart Pail®was designed to disrupt traditional plastic pail usage—which has essentially not changed since its inception in 1967. It's why we collaborated with WestRock to redesign the form, function, features, and benefits of flexible IBC packaging to work more efficiently, and to simultaneously benefit the environment.
The Meta Pail is a semi-rigid, vacuum-formed, plastic pail insert with a hermetically sealed laminated film lid, housed within an 8-sided
corrugated Meta container. Meta Pail was developed for transporting semi-viscous, solid, and most liquids currently shipped in plastic pails. Meta Pail is highly customizable—putting the flexible in flexible packaging—and various industries benefit from everyday conveniences Meta Pail provides.
It offers supply chain efficiency—helping to lower costs, both on transportation and operationally. It helps manufacturers, distributors, and end users optimize space savings and transport efficiencies while being much easier to handle than the heavier, clunkier plastic pails.
The material reduction and sustainability statistics are impressive! They speak for themselves:
Meta Pail uses less packaging, lighter-weight materials, and weighs approximately 60% less than a plastic pail
Reduced impact on climate change (CO2 emissions) by 52% over rigid pails
72% less solid waste than rigid pails
64% less energy usage than rigid pails*
Recyclable components: HDPE pail and corrugated container
*Environmental analysis performed by a third party
Optimizing Pack Shape
The trend analysis reports that another focus influencing the industrial packaging market regards the shape of the pack and its effect on optimizing cargo space without compromising protection. As the article states, "Rectangular-shaped rigid IBCs that enable containers to be packed closer together with less void space will increasingly be used by large companies. This will manifest itself in greater volume usage for containers and ultimately improved trailer transportation efficiencies."
CDF's Contribution
Piggybacking on the discussion above about the advances Meta Pail brings to the industry are the many ways its design and weight positively impact transportation, storage, usage, and disposal costs and functions.
Meta Pail:
Takes up less space in a truck, plant, or dumpster: can typically get 2.5 times more empty Meta Pails on a truck
Requires less trucking: 16,000+ empty Smart Pails shipped nested to filler vs. typical 6,500 pails
Has less disposal volume, is easier to transport/dispose/recycle: 4 collapsed Smart Pails fit into the space of 1 five-gallon plastic pail
Safety
Striking a balance between controlling packaging waste and retaining the necessary protections packaging must provide for materials—especially hazardous and dangerous goods—is vital in our global market and remains a "trend" for companies to stay in compliance with. The international regulation of transporting hazardous goods is the cornerstone impetus for the United Nations' (UN) Recommendations on the Transport of Dangerous Goods.
CDF's Contribution
Acutely aware of the need for flexible, sustainable, and UN-certified packaging that contain, transport, and protect dangerous and hazardous goods, CDF designed the UN-certified bag-in-box, which has a vast and positive sustainability profile.
It is used for a variety of industries:
Its performance benefits are many:
Replaces many rigid packages—uses significantly less plastic, and on average, costs notably less than a similar capacity rigid container, including cube-shaped inserts and containers, cans, and plastic pails.
Utilizes manual, semi-automatic, and fully automatic fill lines for form-fit bags.
Collapses easily to a virtually flat bag and box, minimizing shipping and warehouse/space requirements.
Dispenses without surging or glugging.
Provides excellent quality and storage security against leakage with superior seam strength.
Fills without air, eliminating foaming and splashing.
If drums are the more logical approach for the transport and storage of dangerous good for your company, you might be interested in reading our recent blog post that speaks to UN-certification with regards to adding liners to your drums.
CDF Solutions
We've been planning for the future for a long time! With our vast selection of products, we're happy to make it easier for you to transport a wide array of goods domestically and internationally. You can get them there securely, sustainably, and compliantly. We'd like to help! Contact us now to speak to one of our specialists!
If you have all the information you need and are interested in CDF products, request a quote today.