A Bright Future with Innovative Flexible Packaging
One look at the news—forest fires, floods, epic storms—and we see how fluctuating environmental conditions can create disastrous situations. We all have concerns about the planet and the environment and are reminded every day about how fragile it can all be. The good news is that there are ways—big and small—that we can positively affect the impact we have on the world around us. Everyday people and big businesses are paying attention … and making changes.
Simple Measures Help
From the simplest measures at home, such as planting native species in the yard, buying local, and grocery shopping with re-usable bags,
consumers are taking charge and doing their part to minimize their carbon footprint. This push by consumers has even influenced Amazon to roll-out a new packaging policy—we wrote about it here. There is another article in Packaging Strategies that talks about how much people love the convenience of online shopping, but packaging design can put a damper on the experience. The article nails the experience—and also leaves us with a positive outlook for how big business is helping with solutions:
"… the euphoria of receiving the package is somewhat diminished by knowing the negative impact that box after box and package after package can have on the environment. With the help of innovative and environmentally minded designers, the world of packaging design is transforming just as our shopping habits have evolved from brick and mortar to the ease of online. Eco-conscious companies and their packaging design partners are developing new ways to deliver stellar, on-brand packaging with the structure to properly protect fragile contents in an environmentally friendly way."
The article discusses a company that manufactures garage door openers and chronicles the successful packaging re-design that keeps the protective elements intact, reduces its carbon footprint (which involves using different materials that are recyclable), is less costly, and has made packaging more efficient and cohesive for all stakeholders.
Bulk Packaging Imperative
The imperative exists for all bulk packaging manufacturers to make significant changes that positively impact the planet. We agree with the article in its statement, "It is incumbent upon packaging solutions providers to continue to aggressively identify environmentally conscious ways of improving packaging without compromising integrity, security or customer engagement with the brand."
That's the same philosophy we embraced when we designed Meta® Pail. The Meta Pail is a semi-rigid, vacuum-formed, plastic pail insert with a hermetically sealed laminated film lid, housed within an 8-sided corrugated Meta container. Meta Pail transports semi-viscous, solid, and most liquid products currently shipped in plastic pails. We anticipated this massive shift in consciousness with regard to packaging and are proud to be a forerunner on creating this disruptive packaging technology with overwhelmingly positive benefits throughout the supply chain.
While Meta Pail answers many needs of the manufacturers, distributors, and end users from a functional perspective, it also has a very favorable sustainability profile. The list is long … and we're okay with that!
Sustainability Profile of Meta Pail:
Meta Pail weighs approximately 60% less than a plastic pail
One extra layer per pallet; 33% savings on transportation costs and operational efficiency
Shipping density on all incoming materials will increase by at least 15% when compared to pails
Designed to fit 48 filled units on a 40" x 48" pallet
Allows for double pallet stacking, maximizing your storage efficiencies
Less storage and trucking space: 1 pallet of Smart Pail inserts equals 2 1/2 pallets of plastics pails
Less disposal volume, easier to recycle: 4 collapsed Smart Pails fit into the space of 1 five-gallon plastic pail
Reduced impact on climate change (CO2 emissions) by 52% over rigid pails
72% less solid waste than rigid pails
64% less energy usage than rigid pails
Recyclable components: HDPE pail and corrugated container
Ability to collapse or nest for minimized and efficient disposal/recycling—takes up less space is a truck, plant, or dumpster
Click here to download the Meta Pail brochure!
CDF's Sustainability Commitment
We don't limit our sustainability vision to our product lines; we also practice sustainable measures throughout our organization. Our Sustainability page discusses many details of our approach and initiatives. Below are some of them.
Energy Consumptions:
CDF worked with NSTAR on a company-wide initiative to install 100% high-efficiency lighting. This has resulted in a savings of 125 amps, or 10% of all energy consumption on a yearly basis.
We have put in place state-of-the-art, energy efficient, air compression systems in use throughout our manufacturing facility, resulting in significantly reduced HVAC usage.
CDF has invested in an energy transfer system to distribute heat from manufacturing throughout other parts of our production facility.
We have invested with NSTAR on energy-efficient machinery that has led us to produce better quality products and contributed to annual energy savings of 70% over previous equipment.
Investing in solar electricity is another step CDF is taking to become 100% sustainable. Initially, CDF invested in 8,200 solar panels for the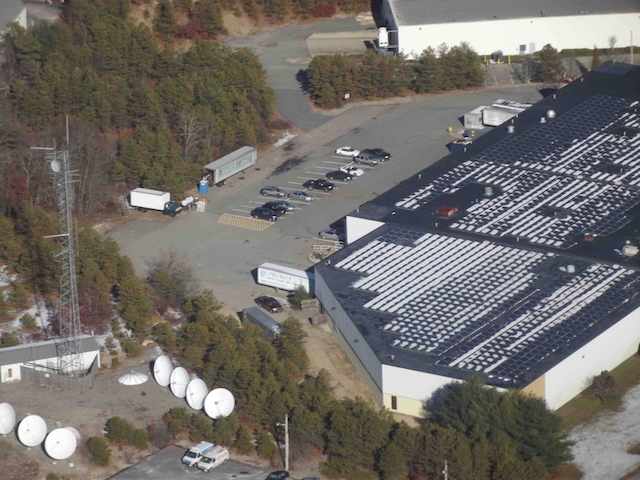 Cheer Pack manufacturing facility in West Bridgewater, MA. With that success, Independence Solar installed 2,500 solar panels at CDF's headquarters in Plymouth, MA. The solar panels at CDF generate approximately 20% of the electricity used for manufacturing. On weekends and holidays, when CDF is not manufacturing product, the power goes out to the grid to be used by other companies in the Plymouth area. CDF's effort to expand its solar power usage in Massachusetts demonstrates our commitment to sustainability.
Recycling Commitment:
Our Plant Green program recycles over 150,000 pounds of cardboard product annually.
Our Plant Green program recycles over 25,000 pounds of co-mingled material annually.
Our Plant Green program is currently recycling 98% of excess packaging received from suppliers.
Plastic Regrind Program:
The Plastic Regrind Program is a longstanding initiative that has allowed us to recycle over three million pounds of internally generated plastic per year.
Collaborating for Success
Working to preserve, protect, and ensure a better future shouldn't be a chore. Initiatives and innovations, however slight or massive, can make a sizable difference in shaping the bright future we all set our sights on. If your company has not switched to flexible packaging yet, we're happy to explore the options with you. We are well-versed in helping companies make the transition and will deliver a seamless turn-key installation and line integration. Contact us now to collaborate on a greener future.