Clean Packaging Represents Consumer Values
You've heard about a new food sensation and want to try it. So now, you're standing in front of a busy shelf at your local grocery store ready to give it a go.
And then you notice that multiple brands have already gotten into the market (if you're a food producer reading this, one of your brands
may be on that shelf!). The options seem limitless and overwhelming at times. How do you decide which one you will buy? Of course, if you're a food producer reading this, and your brand is among the choices, we know which one you'll buy.
That leaves us with the general question when we consider the collective consumer (that's all of us in our daily lives). We, as packagers, need to answer this: when ready to make a purchase, what is important to you? Ultimately, what's important to you is what sells. What makes one package more appealing than another? What emotions, preferences, or perceptions are at work? We all know it isn't only one factor.
A recent Echo Trend Study, as reported by Evergreen Packaging tells us that there has been a natural progression that brands have made to respond to consumer demand for clean labelling and clean processing, and the next step is for clean packaging to be part of the brand response. The insights in the report are telling:
Consumer trends indicate a need for food and beverage companies to view packaging as an extension of the ingredients list.
Increasingly, grocery shoppers will be looking at the total package—literally.
Putting packaging at the forefront of the innovation pipeline creates new opportunities for differentiation among food and beverage brands.
The report indicates that food and beverage packaging needs to "work harder to share consumer values" by working harder to:
Protect freshness, taste, and nutrients
Align with ingredients
Be responsible
Protecting Freshness, Taste, and Nutrients
Freshness
People are looking for what isn't in the package—namely, preservatives. Having definitive language that communicates there are no preservatives is important to 70% of the surveyed grocery shoppers.
Taste
We buy food and beverage because we like how it tastes. Consumer perception and real-life experience play a big role in satisfaction for 76% of grocery shoppers, and there are some quantifiable views about what type of packaging can "change the taste" of their beverage:
Steel cans: 51%
Aluminum cans: 47%
Plastic bottles: 43%
Refrigerated cartons: 19%
Glass bottles: 12%
Nutrients
Exposure to light to preserve the nutritional content of healthy beverages is a factor for grocery shoppers; 70% of respondents feel it is "extremely or very important that packaging retains the nutrients of the beverage."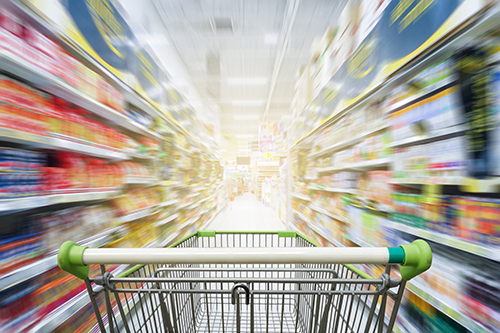 Packaging Should Align with Ingredients
Food and beverage companies have been in step with the increase in healthy ingredients—and recently, as the report says, " … packaging materials are having an increased impact on purchasing decisions."
These stats come directly from the study:
71% of grocery shoppers in 2018 strongly agree or agree "foods and beverages with healthier ingredient lists should use packaging materials that are healthier too."
61% of grocery shoppers in 2018 strongly agree or agree "natural and organic products need to do a better job of packaging their products with recyclable materials." (up 6 points since 2014)
Packaging Should Be Responsible
Responsible packaging should contain these elements: how much packaging; recyclability; amount of renewable material; and plant-based materials. A larger percentage of shoppers—68%—say it is extremely or very important to "choose food or beverages that are packaged responsibly (up 5 points since 2014)." The trend for shoppers to choose—or change what they buy—based on the elements mentioned above continues to increase.
Sharing Consumer Values
The study makes a point that we've written about recently as well. Evergreen says, "Many grocery shoppers are expecting more out of brands and retailers in terms of environmentally friendly products and packaging and the social responsibility of the companies involved. A focus on authentic values and shared values is reshaping expectations." These expectations extend to retailers and include the product, packaging, and the environmental and social responsibility profile of producers. Consumers build trust in brands and retailers by making it easy for them to choose products that use renewable resources and allows for them to make eco-friendly choices. In short, "These trends in grocery shoppers' expectations mean increased demand for packaging that works harder for their health and the health of the environment."
Doing the Work
Creating sustainable, Mindful Packaging also includes a company's ability to provide future and continued success with its products. That involves looking ahead and planning for the next generation of packaging within a given sector. That's exactly what we did in the B2B sector when we disrupted the plastic pail packaging market with Meta® Pail. This innovative, award-winning flexible packaging solution is a semi-rigid, vacuum-formed, plastic pail insert with a hermetically sealed laminated film lid, housed within an 8-sided corrugated Meta container. Meta Pail transports semi-viscous, solid, and most liquid products currently shipped in plastic pails.
While its use extends far beyond food and beverage purposes, it's perfectly suited for the many products in the F&B industry: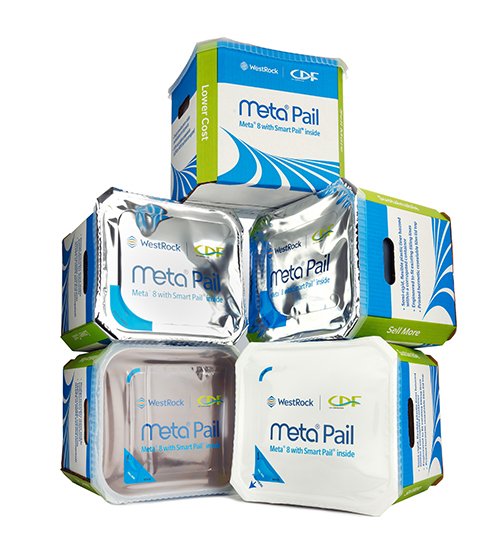 Solids and dry goods: croutons, diced fruit, frozen fruit, spices, pet food
Semi-Viscous: sauces, dressings, condiments (mayonnaise, pickles, relish), bakery goods (flavorings, fillings, frosting, toppings, puree, compote), and more
Liquids: dairy (yogurt, cheese, ice cream, sweetened condensed milk), dyes, pigments, and more
Sustainability: Saving the Environment and Your Bottom Line
Everyone wins when we work collectively toward sustainability goals. When we all pitch in through simple practices and everyday business decisions, we all get there. Meta Pail is just one of CDF's Mindful Packaging solutions that helps you meet your sustainability initiatives, for your business and the planet. Here are some sustainable packaging statistics about Meta Pail:
Less disposal volume, easier to recycle: 4 collapsed Smart Pails fit into the space of 1 five-gallon plastic pail
Reduced impact on climate change (CO2 emissions) by 52% over rigid pails
72% less solid waste than rigid pails
64% less energy usage than rigid pails**
Recyclable components: HDPE pail and corrugated container
Ability to collapse or nest for minimized and efficient disposal/recycling—takes up less space in a truck, plant, or dumpster
There's so much more to discuss about Meta Pail, and this page provides a comprehensive view of this innovative, sustainable packaging solution.
Mindful Packaging
Mindful Packaging is more than a simple concept at CDF. It's at the heart of our mindset. All our packaging innovations are engineered through this filter, keeping all stakeholders—literally—in mind. Not the least of which is the planet and everyday people, whether or not they ever directly use our industrial packaging products. We take our responsibility to the greater ecosystem seriously and understand that the ripple effects of our actions, large or small, ultimately impact each one of us. And we mind what we do so you don't have to.
What's on your mind today; how can we help you meet your flexible, sustainable packaging needs? Contact us now to begin the conversation.