Traditional Rigid Packaging Pales in Comparison to the Meta Pail KD8
Why do you still use traditional plastic pails when there is a better packaging solution that saves you time and money with storage, handling, and transportation, optimizes overall efficiency, promotes brand awareness, and helps meet sustainability goals? Packaging is packaging, you say. As long as it gets my goods from point A to point B, I'm good. Until you aren't … or your goods are compromised. Whether you are at the beginning of the supply chain or are the end-user, your products travel through a variety of locales, through various conditions (picture temperature shifts and bumps in the road along the way), and pass through a number of hands, literally.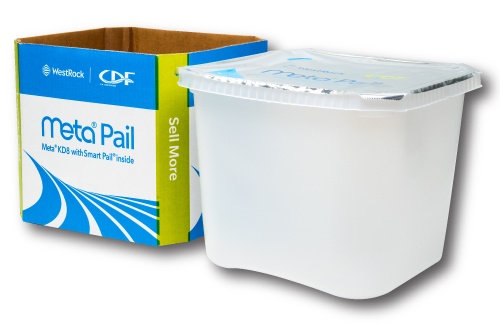 Think about all that we ask our packaging to do for us. First, the obvious: it, integrally, needs to be strong to withstand all of this handling and the many environmental influences it is subject to. This one's a given. But does strong have to mean rigid, inflexible, and un-customizable? It shouldn't—and with some disruptive, innovative improvements, it doesn't.
It's why we decided to change the way packaging works for you. In partnership with WestRock, we recreated an entire flexible packaging system: the Meta® KD8 with Smart Pail. It is a semi-rigid, vacuum-formed, plastic pail insert with a hermetically sealed peel-reseal laminated film lid, housed within an 8-sided corrugated Meta container. Meta Pail transports semi-viscous, solid, and most liquids currently shipped in plastic pails.
A Look at the Lifecycle
Let's think about a day in the life of the people who handle packaging throughout its lifecycle and discuss the issues they may have when handling rigid plastic pails as opposed to flexible packaging. We'll start at the beginning: the manufacturer.
Manufacturers
Rigid plastic pails. Manufacturers are concerned about managing the bulk packaging as it comes into their plants, gets filled, and ships out to distributors. They struggle logistically with the bulky, cumbersome storage of 5-gallon pails, which also create challenges in filling and delivery. Finding ways to decrease price and weight, while increasing manufacturing efficiencies, and maintaining proper sanitation is always on their minds.
Meta Pail flexible packaging. Size, storage, and bulk issues are well under control with nestable, lightweight, flexible packaging, which saves space from less packaging for improved space savings at both the processor and end-user. CDF's Meta Pail features lighter-weight materials and less packaging—it weighs approximately 60% less than a plastic pail.
The overall gain for manufacturers encompasses the supply chain, offering lower operational, storage, handling, and transportation costs. The unique Smart Seal technology provides excellent strength and product protection. The lidding options ensure the absolute purity of product. Production set up is available in manual, semi-automatic, automatic equipment options, based on operations size and production volume. CDF provides project design, engineering, and full support through turn-key installation and line integration for automatic installations.
Distributors
Plastic rigid pails. A good day for distributors is one when they meet all deliveries on time. Distributors like efficiency and demand it to maximize load capacity and decrease transport redundancies. It would be even better if they could deliver more product per truck, which would help decrease overall transport costs and save time and effort along the way—literally.
Meta Pail flexible packaging. The numbers speak for themselves for optimizing space and decreasing transportation costs with Meta Pail. In a stark comparison, a one-truck shipment of Smart Pails can carry 16,000+ empty shipped nested containers versus the shipping maximum of 6,500 typical plastic pails per load.
The transportation efficiencies continue. You gain one extra layer per pallet, which translates to double pallet stacking = 33% savings on transportation costs and operational and handling efficiency. Shipping density on all incoming materials will increase by at least 15% when compared to pails. Meta Pail was designed to fit 48 filled units on a 40" x 48" pallet. You will use less storage and trucking space: 1 pallet of Smart Pails equals 3 pallets of plastic pails.
Sales & Marketing Teams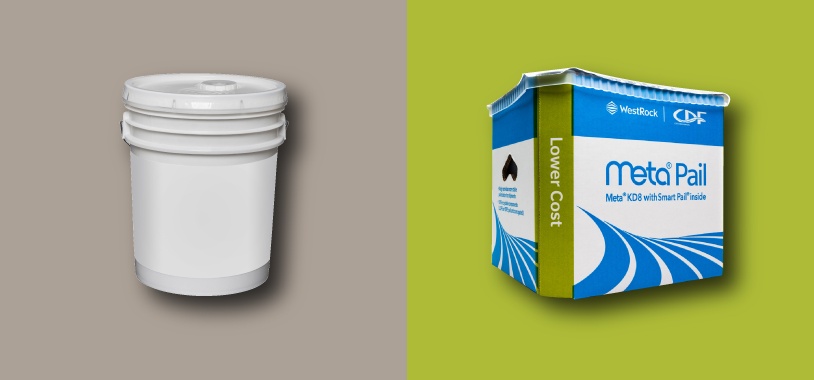 Plastic rigid pails. Not a wish of the sales & marketing team solely—who doesn't want increased product awareness? But each truckload of poorly labeled pails heading off across the country represents missed opportunities. An ongoing goal of sales & marketing is to improve branding and increase exposure—and, of course, make the sale! They want more than just a drab label slapped on the top or side of the plastic buckets—wondering how to achieve more professional marketing and positive brand awareness on packaging. As well, the sales team keeps fending off questions about environmental impact and needs better answers to queries about plastic containers overloading landfills. Even though marketing campaigns promote recyclability, people say they can't be bothered with the proper disposal of big plastic buckets.
Meta Pail flexible packaging. Here is one aspect of Meta Pail where more = better. This multi-faced, 8-sided container offers unique branding opportunity to increase exposure and reinforce brand awareness. Private label opportunities help optimize retail shelf visibility, providing the opportunity to attract new customers. Meta Pail usage significantly reduces life-cycle environmental impact versus plastic pails, improving your sustainability scorecard.
End-User Customers
Plastic rigid pails. Customers have their share of long days, complete with the ergonomic challenges of opening and closing containers, scooping product, and hoisting containers of bulk product. The smallest gain in task efficiency represents an appreciable improvement: lighter bulk containers, easier opening lids than those of 5-gallon pails that never come off without a fight, and more sanitary assurances for re-lidding. Storage and disposal present issues—either stacked too high and cumbersome to get to, or in the way until recycling day. And washing them out for sanitary storage or taking off the handles in preparation for recycling—not what anyone wants to do at the end of a long day. Customers would rather spend energy on more important business concerns, like growth.
Meta Pail flexible packaging. Designed with the needs of the end users in mind, Meta Pail is ideal for use with food and condiments, providing a unique tamper-evident lidding film, with no separate lid to track or pick up contaminants. Customers enjoy various lidding features: easy open, easy close with large peel-reseal lidding structure—hybrid peel option with peel-reseal and one-pull features for ease of disposal; and one-peel lidding option for one-time use products. Above all, Meta Pail is lighter weight than a 5-gallon plastic pail, making it much easier to handle. Storage and disposal is more efficient; being made of made of collapsible plastic and corrugated, it is disposes easily and is recyclable.
Replacing the Pail
We wanted to disrupt the packaging industry. There have been no appreciable advancements in packaging for decades and we knew we could make an impact on the efficiency of the entire supply chain. Why replace bulky, plastic pail packaging with a system like the Meta Pail KD8? We hope it's now as obvious to you as it was to us when we set out to innovate the way you do business. Now you can package goods, better.
CDF Corporation has a long history of innovation in flexible packaging, from accordion inserts to unique IBC liner valves. CDF's high level of expertise and service ensure a reliable partner for custom food packaging. As an SQF-certified facility, CDF has your food packaging needs covered. Download our Meta KD8 with Smart Pail brochure for more details about this innovative packaging system.