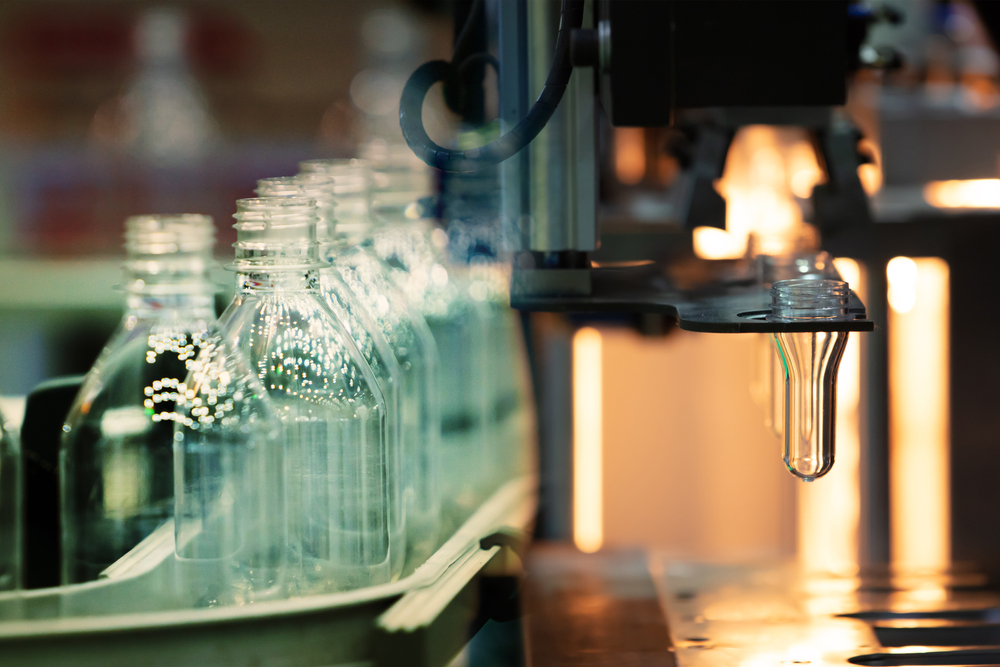 Lightweight and recyclable, plastics make excellent containers for solids and liquids. They maximize payload in product shipping and don't impart any taint or contamination to what's being packaged. Plastic containers are usually formed by blow molding, which is different to the better known process of injection molding. When sourcing plastic packaging it helps to understand the merits of blow molding vs. injection molding.
What is Blow Molding?
Blow molding is a process for producing thin-walled, hollow shapes in plastic materials. There are several types of blow molding process, the most widely used being extrusion blow molding. Other types are injection blow molding, bi-axial stretch blow molding and co-extrusion blow molding.
Extrusion blow molding entails three main steps:
Parison extrusion
Blow molding
Finishing
Blow molding starts by extruding a thin-walled tube called the parison. This has sufficient material to form the final shape required. The parison is extruded vertically downwards and then enclosed within two halves of a mold before being pinched off. This leaves an open end in the mold while closing the bottom of the next parison.
A tube is inserted through the open top and air is blown in under pressure. This pushes the parison out against the walls of the mold.
Molds are often water-cooled to regulate their temperature and accelerate solidification. Once the plastic is firm the mold opens and the flash is trimmed away from the top and bottom.
Injection blow molding also starts with a preform, similar to the parison. In this process though, the preform is created by injection molding plastic into the gap between the cavity walls and an internal core. The core is then removed and air blown in to expand the preform to the required shape. Injection blow molding is used for producing smaller containers (under 1.0 L,) than made by the extrusion process. Product rates are lower than for extrusion.
Stretch and co-extrusion blow molding are specialized variations of the process. They are used mostly to make clear bottles.
What is Injection Molding?
In injection molding plastic is melted and pushed into a cavity under pressure until the mold is completely full. It's then allowed to cool and solidify, often accelerated by flowing cooling water through channels in the mold. The mold then opens and the molded part or parts are ejected.
Injection molded parts have a system of channels attached through which the plastic flows. The cross-section of these channels is used to control flow rates and ensure the cavity fills completely. This feeder system is cut away after ejection.
What is the difference Between Blow Molding and Injection Molding?
As the descriptions given above indicate, while blow molding and injection molding are similar processes for making things in plastic, they have some significant differences. These are:
Geometry – injection molded shapes are solid, (unless complex cores are used,) while those produced by blow molding are hollow
Material consumption – as blow molding is capable of producing very thin walls, containers made by this process require less material and are lighter than those made by injection molding. (This can also reduce transport costs.)
Wall thickness variation – injection molding is capable of higher precision and uniformity than blow molding
Tooling – for injection molding tools to withstand the high clamping pressures used to stop the two halves separating under the injection force they must be very solid and heavy. Blow molding tools need not be so massive.
Tooling costs – blow molding tools are generally less expensive than those for injection molding
Machinery – injection molding and blow molding machines are large and complex. Injection molding machines tend to be more expensive though because of the forces involved.
Materials for Blow Molding
Most plastics can be blow molded. The list includes HDPE, MDPE, LDPE, PET, polypropylene, PVC, TPE, polystyrene, polycarbonate, PTFE and nylon. Many of these plastics are readily recycled, a topic of increasing concern to packagers and end users/consumers alike.
Material choice can impact wall thickness uniformity. This occurs when the parison starts to thicken towards the bottom end. Choosing higher molecular weight polymers, (where longer molecular chains increase viscosity,) reduces the extent to which this happens.
Common Uses for Blow Molded Products
Blow molding can produce plastic bottles of 0.25L volume or less and can also produce large containers like automobile gas tanks (50L or more.) Inevitably, larger moldings require a bigger machine and are produced at a lower rate than smaller containers.
Blow molding is used extensively for consumer packaging of personal care products like shampoo, conditioner and liquid soap. It's also used for cleaning products and other liquids sold in relatively small containers. Other uses include storage tanks for beer and wine production, oils and lubricants, agricultural feedstocks, and even stadium seating.
Partner With an Expert in Plastic Packaging
When sourcing plastic containers the choice often comes down to those produced by blow molding or injection molding. Both processes are capable of producing high volumes of very uniform products, although injection molding has a slight edge in terms of wall thickness consistency.
However, when economics are taken into account, blow molding often comes out the less expensive process. Blow molding machines are capable of high volumes and speeds and are typically less expensive than those for injection molding. In addition, the mold tools themselves are less massive and less complex than those required for injection molding. Furthermore, the lower weight of blow molded containers offers the possibility of lower transportation costs or carrying more saleable product than is the case with injection molding.The range of materials and processes make it difficult to select the right plastic container manufacturer. Success hinges on finding a partner who not only understands polymers and molding but is willing to work with you and develop solutions for your challenges. Trusted by global brands, CDF has that attitude and expertise. Contact us to learn how we can help you meet your packaging goals.