Achieve 99.5% Product Yield from These IBC Liners
You pay for every ounce of your liquid or viscous product that is packed, stored, or shipped. That means that if you're using evacuation methods that don't give complete access to all product, or shipping solutions that demand a large weight or volume-based cost, you're not getting the ROI you should be.Air-Assist® liners provide a unique and financially smart concept that will revolutionize the way you work with liquid and viscous products—and here's why: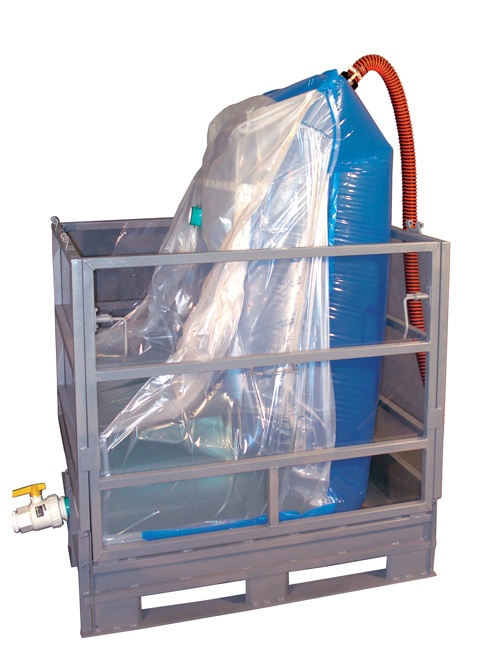 They're considerably lighter to transport. Tanks and drums have long been the standard in the food and beverage industry, but traditional external materials like stainless steel are very heavy. Tanks and drums are not collapsible, which takes up more room when shipping or storing. That means that rather than paying to transport your product, you may be paying an outsized share of your expenses just to move their outer casings over road and throughout the warehouse, putting strain on your supply chain, workforce, and material handling equipment alike.
They evacuate more product than standard methods. When using an intermediate bulk container (IBC), issues with pumps can leave you with more than residue in the bottom of the container; they actually leave money behind in the form of wasted product. Air-Assist liners help you get as much product as possible neatly dispensed, ensuring you're getting total value and not simply the portion that a pump could manage to evacuate. While a high-viscosity product might only achieve a 95% yield via pump mechanisms, the Air-Assist liner can extend that number to as high as 99.5%.
They operate hands-free, once connected. Once the air regulator is attached to the air bladder, no further supervision is needed—operators can tend to other work while Air-Assist does its job. The regulator maintains a constant air pressure and will not overinflate or compromise the air bladder or liquid container if the dispense valve is closed; it simply keeps it ready for the next time it's opened. The system only requires regular plant air and uses a quick-connect fitting to ensure optimum control at all times.
They don't require washing.Tank transport of liquids and viscous products requires a thorough cleaning between shipments—potentially even sanitation, depending on the product, local and state regulations, and needs of your company. The Air-Assist liner does not require washing and helps you dispense nearly all of an IBC's contents cleanly and efficiently. That means you'll save money on staff, cleaning products, and potentially even facility space if large-scale washing areas are no longer a requirement for operations.
High-Viscosity Products
Purity of product is another major benefit for the types of high-viscosity products that Air-Assist liners work particularly well for, such as (and not limited to):
Chemical—automotive greases, automotive lubricants, coatings, paint, adhesives
Cosmetic—shampoo, conditioner, cream/lotion, lipstick, liquid makeup
Food—ice cream variegates, molasses, salad dressing, syrups; fruit puree, yogurt, jelly, sauces, honey, condiments
Maintaining Your Supply Chain Structure
Air-Assist liners are an excellent way to increase efficiency, product yield, and dispensing ease while reducing costs and effort. They don't require a complete overhaul of your current transportation solutions, which means they're easy to implement within your current supply chain structure. Air-Assist liners are available for all intermediate bulk container sizes and CDF offers a variety of films, fitments, and fitment placements. Talk to us about custom designs.
You're working with great liquid products, and it's time to make sure that you're getting everything you can from every intermediate bulk container, regardless of contents or size. Use the tools you already have at your warehouse's disposal in a smart, revolutionary way—all while freeing up your employees to do important work elsewhere on the floor. To learn more about what CDF's Air-Assist liners can do for your company, download the Air-Assist liner data-sheet now.