According to Smithers, a consulting and research firm known for its work in materials science and packaging, the global packaging market continues to evolve and grow to new heights. Per its report, "The Future of Packaging: Long-Term Strategic Forecast to 2028," it finds that the global packaging market is projected to increase at a continuous annual growth rate (CAGR) of about 3 percent each year, reaching more than $1.2 trillion by the year 2028. While this CAGR is less than half of the nearly 7 percent growth rate that the industry experienced from 2013 to 2018, it's still significant and indicates an increased worldwide demand for packaged goods.
But what's driving the growth in the packaging market? In this post, we'll look at the trends that will likely continue to shape the future of packaging.
Here's a closer look:
Economic Growth
A decade ago, the packaging industry's growth was primarily driven by consumers moving to urban, western cities and countries and by the surging e-commerce sector. The rise in packaging moving forward, experts say, will primarily be driven by rising consumer incomes. Now, it's important to note that the report that we cited from Smithers in the opening gauged the packaging industry from 2018 to 2028, so it was conducted before the economic fallout from the COVID-19 pandemic. That being said, Smithers also indicated that e-commerce packaging increased by about 40 percent to $51.7 billion in 2020 as people stayed home and ordered online. Smithers also states that e-commerce will continue to surge, projecting that it will encompass 10 percent of all packaging by 2025. While economic recovery is mainly contingent on any further gains in the packaging sector, incomes are still likely to increase over time, which will lead consumers to purchase more overall product.
Sustainability
Packaging sustainability isn't just being driven by consumers, but by brands and governments as well. Specifically, the European Union is leading the charge on packaging sustainability, as evidenced by its focus on circular economies and drive to reduce plastic waste, notably single-use plastics. Perhaps most significantly, consumers prefer to do business with brands that take sustainability seriously, which is putting pressure on them to seriously address all aspects of their business, especially their packaging. Moving forward, investments in bio-based plastics and recyclable plastics are going to become more critical. So too will food packaging, specifically when it comes to reducing the astounding amount of food that is not consumed. It's estimated that up to 40 percent of all produced food is not eaten, and wasted food isn't just a waste of the resources used to create it, but it also makes methane when it hits the landfill.
Trends
The packaging industry is also likely to see consumer trends and brand trends coming into focus in the coming years. Here's a look at each of them:
Consumer Trends
More so than ever before, the internet has changed consumer buying trends across the board. We already mentioned the rise in e-commerce packaging, a surge that is only being helped by the COVID-19 pandemic. But as people purchase more and different types of goods online, there will be an increase in other packaging formats. Consumers are also likely to drive packaging solutions that are convenient and portable, ideal for on-the-go consumers. We've previously written about consumers shaping the future of packaging. Check it out here.
Brand Owner Trends
Though brands primarily respond to consumers, there are a few brand-specific trends that are emerging globally. One is anti-counterfeiting accessories on the packaging, which has become especially important to ensure brand integrity and proper distribution as the economy has become further globalized. Another trend is a drive to make packaging stand out from the competition and capture consumer attention. It's been long said that today's consumer is less brand loyal than those in the past, so anything a brand can do to improve the quality of its packaging or include value-added features is going to play well with its target market.
Our Job
Years ago, we knew there needed to be a change in industrial flexible packaging solutions for food and beverage producers, so we set out to transform traditional packaging. We took it to the next level and designed the disruptive, award-winning Meta® Pail, a semi-rigid, vacuum-formed, plastic pail insert with a hermetically sealed laminated film lid, housed within an 8-sided corrugated Meta container. Meta Pail transports semi-viscous, solid, and most liquid products currently shipped in plastic pails.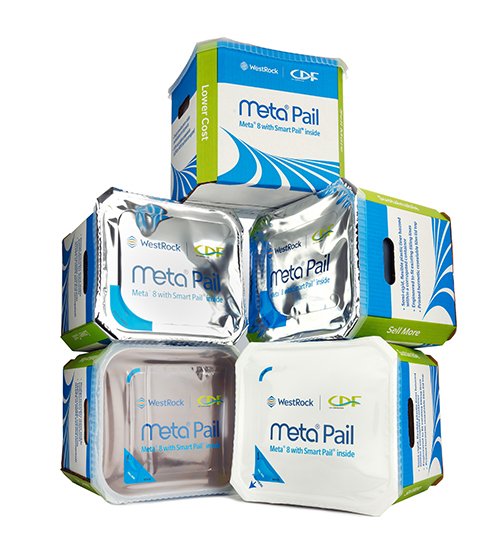 We wanted to address the concerns of the entire supply chain—manufacturers, distributors, sales and marketing, customers and end users—because all stages of packaging production, transport, and distribution demand the same performance criteria, such as:
Food safety
Extended shelf life
Ease of use and handling
Dispensability
Resealability
Durability
Mobility and transport convenience
Decrease product residual and waste—full evacuation from packaging
Positive sustainability profile for packaging
Meta Pail's appeal and functionality extends far beyond simple bullet points, as this article expands upon. It ensures the absolute purity of your product with unique tamper-evident lidding film. The lid film provides an excellent oxygen barrier and is easily peeled and resealable for storage (lidding options are available). This reduces lid costs and contamination.
Meta Pail is suitable for many F&B segments, including:
Solids and dry goods: croutons, diced fruit, frozen fruit, spices, pet food
Semi-Viscous: sauces, dressings, condiments (mayonnaise, pickles, relish), bakery goods (flavorings, fillings, frosting, toppings, puree, compote), and more
Liquids: dairy (yogurt, cheese, ice cream, sweetened condensed milk), dyes, pigments, and more
Meta Pail is also a fantastic solution for chemical, cosmetic, industrial (greases and lubes), and pharmaceutical and medical applications. There's so much more to discuss about Meta Pail, and this page provides a comprehensive view of this innovative, sustainable packaging solution.
Mindful Packaging
Mindful Packaging is more than a simple concept at CDF. It's at the heart of our mindset. All our packaging innovations are engineered through this filter, keeping all stakeholders—literally—in mind. Not the least of which is the planet and everyday people, whether or not they ever directly use our industrial packaging products. We take our responsibility to the greater ecosystem seriously and understand that the ripple effects of our actions, large or small, ultimately impact each one of us. And we mind what we do so you don't have to.
What's on your mind today; how can we help you meet your flexible, sustainable packaging needs? Contact us now to begin the conversation.